Come Visit Us
Dine-In, Delivery, or Carry-Out
Located Across the street from Pickerington North High School
7897 Refugee Rd
Pickerington, OH 43147
Mon: 3:00pm - 11:00pm
Tue - Wed:  11:00am - 11:00pm
Thu - Sat: 11:00am - 12:00am
Sun: 11:00am - 11:00pm
Mon - Wed: 3:00pm - 11:00pm
Thu - Sat: 11:00am - 12:00am
Sun: 11:00am - 11:00pm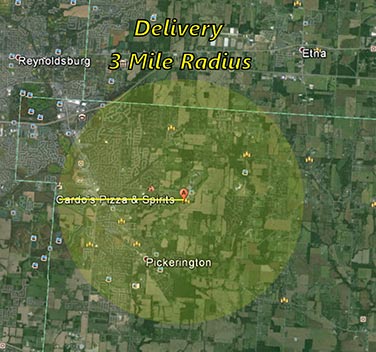 Cardo's Pizza and Tavern offers food delivery!
*Food delivery ends one hour before scheduled closing time.*

If you live within 3 miles of the Refugee Road and Pickerington Road intersection we will deliver to your door.
If you are unsure if you are within the delivery area please check with us first before placing your order.